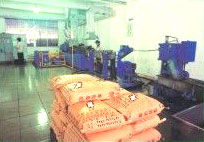 Founded in May 1985, Yangxi Huaqiang Color Master Batch Factory is a specialized manufacturer for Huaqiang Brand color master batch and plastics dehydration master batch. The factory has established a long-term research partnership with the renowned Guangzhou Institute of Chemistry, Chinese Academy of Sciences and jointly developed series of color master batch, characterized by high density, high dispersion, high quality, strong coloring and good brightness. Huaqiang attaches great importance to scientific research and technical innovation. The factory has for long introduced advanced production lines and is one of the earliest specialized producers of all-purpose plastics pigment granule in China, with an annual output of over 10,000 tons.
Huaqiang now possesses a few national patents on color master batch. Some of our production techniques are regar ded as China's first and fill the gap in the country's domestic master batch industry. Chinese authoritative research institutions have ruled that Huaqiang's products are more advanced than their domestic counterparts and on par with more expensive international brands.
In April 2003, Huaqiang won the title of China's Production Center of Blow Molding Grade Color Master Batch from the Color Master Batch Committee of Chinese Dye Industry Association; in the same year, Guangdong Provincial Government listed Huaqiang as Guangdong High and New Technology Enterprise; Upon the thorough and independent inspection of SGS Switzerland in 2004, Huaqiang's products had already met the requirements of European Commission directives relating to plastic materials and articles intended to come into contact with foodstuffs. This makes Huaqiang the only Chinese manufacturer fulfilling these obligations. In addition, Huaqiang has also received the ISO9001:2000 Quality Management System Certification and is awarded as one of the 20 Biggest Private Companies in Yangjiang. This does not spell the end of Huaqiang's long list of awards. Huaqiang Brand is officially listed as Guangdong's Famous Brand in 2006.Huaqiang Brand is -name products in Guangdong 's Province"Brand in 2007,Huaqiang, as a leading producer of color master batch in China, is looking for ward to serve and grow with our most valued customers.